Men's Camp & Float
Friday, August 13, 2021, 5:00 PM - Sunday, August 15, 2021, 12:00 PM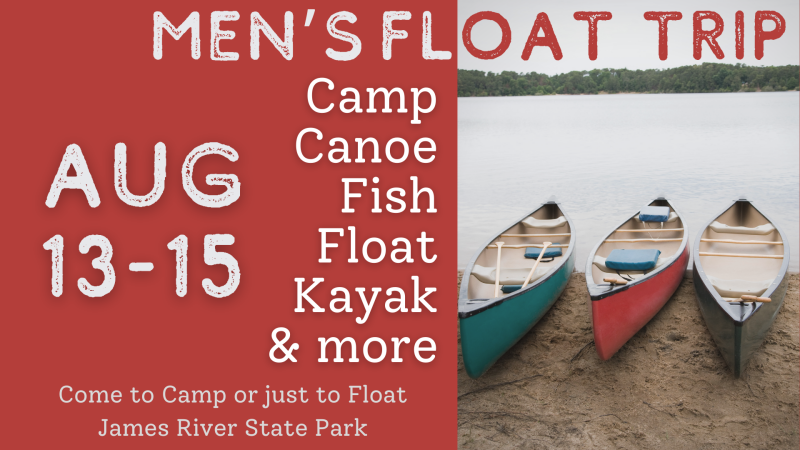 WHEN: August 13-15, 2021 (Float on Saturday—August 14)
WHERE: James River State Park, 104 Green Hill Dr., Gladstone, VA 24553
WHO: Men (Fathers, sons, uncles, etc.) *Children must be completed first grade or older
CAMP & FLOAT ($25**/person or $75**/family. Includes breakfast and dinner, no lunch.)
FLOAT w/DINNER ($10** per person. Please provide your own lunch, water, snacks)
FLOAT ONLY (No cost**, Please bring your own lunch, water, snacks)
BRING YOU OWN:
Boat, float, canoe, kayak, paddles, personal floatation devices, life jackets, sunscreen etc.
Tent, sleeping bag, desired camping gear, fishing gear, weather-appropriate clothing, etc.
Lunch, snacks, drinking water, cooler. (Lunch not provided, and there are no stores close by)
CAMP SPOTS ARE LIMITED and will fill on a first-come, first-served basis. To secure your spot, please complete this form for EACH participant and return forms and payment to the church. The form must be notarized. Do not sign until you are in the presence of a notary.
*Children (minors) must be accompanied by parent/guardian or assigned adult for the entirety of the trip.
** Parking at the park may cost extra. Please be prepared for the parking fee.
Contact Rudy Elder at 434-294-2103 with questions.